SENSORY ILLUMINATION
The design process for these pieces starts from the concept of creating an interesting and different foundation, that could contain one or more illuminating elements. Usually this results in these pieces becoming accent lights, or work lights, rather than a major source of illumination. These lights are far from the usual, whether they have a vintage Hollywood Regency globe or handmade ceramic figures. Commissions, whether for similar designs or something different, are welcome.
CORONA GENERATOR LIGHT In Jacobs Gallery
Sitting atop a very fine 1900 vintage mantle clock, trimmed in brass, sits Indeed the 14,000 volt climbing arc, known as a Jacobs Ladde creates the corona, while the orange neon light on the left and the flashing green vacuum tube on the right, provide ambient light. All the while the multi color plasma panel provides an ever changing array of "lightning bolts". The two LED high intensity"goose neck" lights have an independent switch.
There is a radar type proximity detector, so if no motion is present, the Jacobs Ladder turns off, waiting for the next viewer. Runs off of 110V using a UL approved oil burner igniter to create the arc. This is a very lively and intriguing assemblage.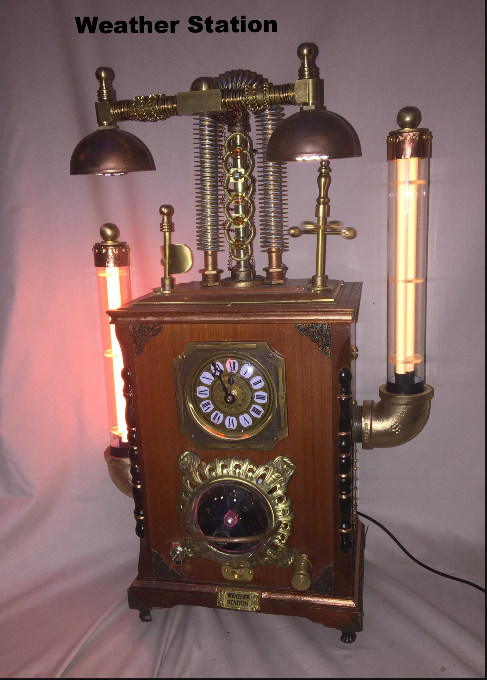 WEATHER STATION DESK LIGHT --In JGO Gallery
Before leaving home in search of tears in the space-time fabric, one should be aware of dangerous plasma storms that can be seen approaching in the plasma ball. Cosmic rays are another danger that are detected by the rotating antenna and radiometer. The neon tubes on the sides warn of electrostatic beams. Back at home, it offers the utility of a desk light with dimming LEDs, quartz clock USB charger port and a Bluetooth music player! What else would you need?
Here is an adaptation of the old "weather glass" in the form of a plasma ball, surrounded by a baroque cast brass lamp base. The vintage wood radio case holds a new quartz clock movement and above is a dual LED desk light, surrounded by a water heater coil wrapped in EL wire. There is a toggle switch on front for the LEDs that are surprisingly bright and dimmable using the brass valve handle on the side. In addition there is a USB charger port on the side.
This Laboratory creation is the Swiss army knife of steampunk lights! This fantastic desk light runs off of 12V. With LEDS at max brightness, and full volume from the Bluetooth music player, total power consumption is approx 30 watts.
The clock is removable from front to change the AA battery. The piece stands 24" high and 11" wide with padded bottom feet, including a one year guarantee on workmanship.
SPARK OF GENIUS -------In LOOK Gallery
The magical "SPARK" device was first noticed in an old photograph of Nicola Tesla. appearing behind him on a library shelf. Later it traveled into the hands of Thomas Edison and George Westinghouse always providing that "spark". It was lost until it resurfaced in a Salt Lake City thrift shop. Examined and refurbished by Vandegraaff Gearheardt Laboratories, the "spark" recurs periodically among the hundreds of illuminated neurons, so goggles have been added to insure the safety of bystanders.
All LED so it consumes less than 2W from included 12V adapter so it can be left on. 16"H x 9"W
***********************************************************************
Luminescence Meter Lamp In JGO Gallery
Here is a walnut cased, 1940's vintage AC voltmeter as the base for this twin LED table lamp. The shades are vintage 'Hemingway" , green glass insulators and the pipes are solid brass wrapped with wire. ON the meter is a Blue circular LED which can be a night light.
The bottom mounted rotary switch selects either the blue LED, the bright LED lamps, or both at the same time (pictured here). The lamp dimmer control incorporated in the meter base,dims the lights while the resulting voltage change is displayed by the functioning meter!
Base is 12" square and 6" deep. Stands 24" high.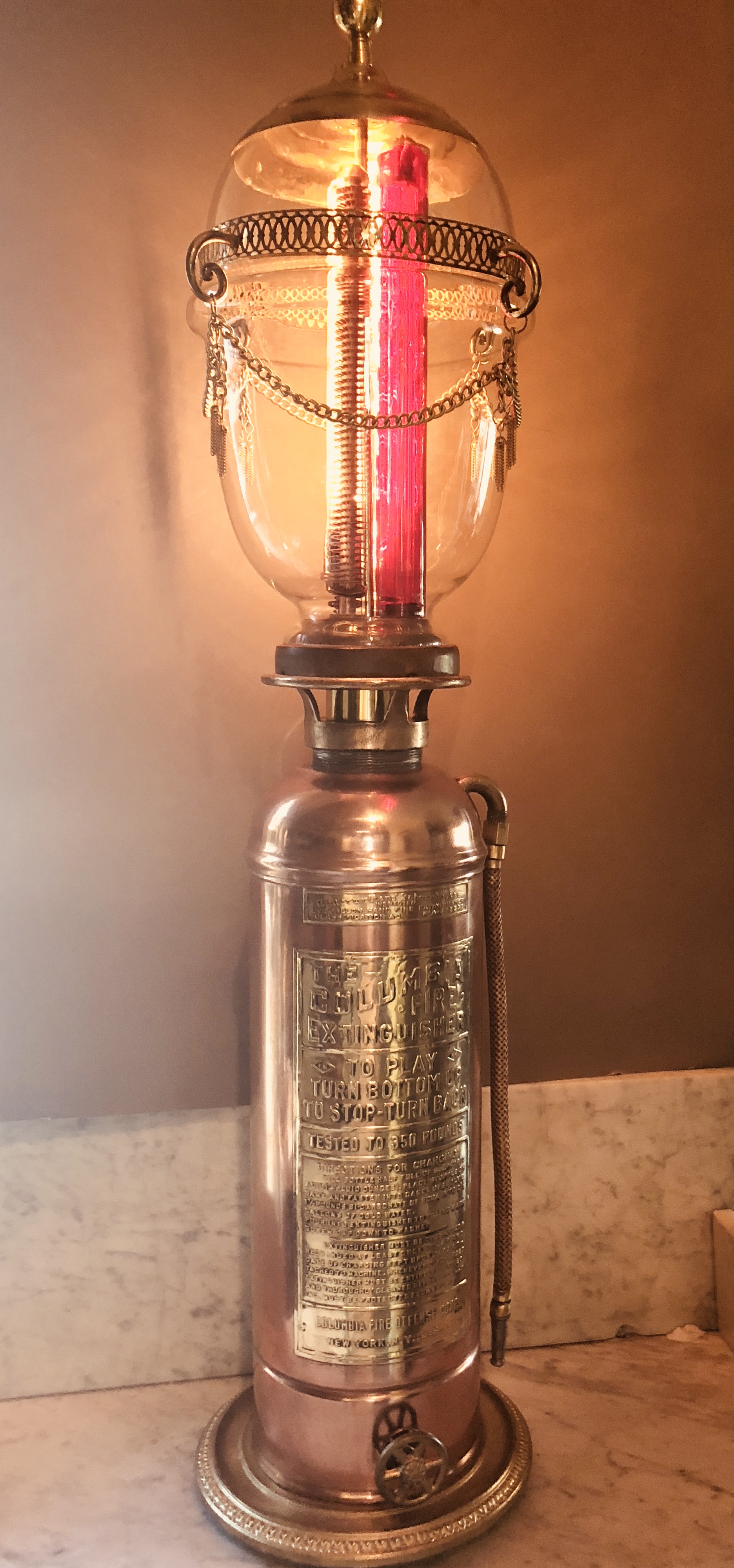 PHLOGISTON DISPENSER ----SOLD
Phlogiston was an 18th century explanation of combustion. Here is a dispenser of fire and light from a pre-war brass and copper fire extinguisher from NYC, sitting on a vintage floor lamp base. On top is a fantastic Hollywood Regency portico light from a Brentwood, California estate. The globe itself is 16" high with a solid brass decorative band with delicate copper tassels and a solid brass top.
The front switch, disguised as a valve, provides the option of illumination from just the 11" Edison tubular bulb, the red CCFL column, or both. This piece can sit on the floor or a table. and makes a statement at 43" tall with a base of 11". The copper and brass are lacquered to inhibit tarnish. It also includes a vintage-style wire and wall plug.
***************************************************************
VOLTMETER BEACON LIGHT ---SOLD
A rare early 1950s AC Voltmeter in its original walnut case hols a solid brass pipe with a vapor safety light, containing a radio style Edison bulb of 40W. As the valve handle is turned, the light dims and the voltage changes. Brass, claw feet have been added.
Base is 12"W x 6"D and stands 18"H.
STARSHIP REFUELING LAMP SOLD
Sitting on a 24" solid walnut base is Fantastic re-purposed in its dock, being refueled with 'Star Jump" Fuel, whose level is indicated by the fuel pressure gauge. The cabin of the ship could be a repurposed "Rocket 88" hood ornament from a 1960's Oldsmobile, upgraded with brass. Touch the control valve and the light comes on: touch it again and it changes from dim, to medium to bright.! Standard 40W, (could be up to 100W), Edison style incandescent bulb.
24"W, x 6" D and 16"H.
Saturnian Illuminator ---Installed in residence
Suspended above is this 19" diameter translucent acrylic ring illuminated by edge mounted LEDS. There are no visable power wires as the low voltrage is carried by the small stainless support wires. The light level is controlled via an RF remote control. Suspended in the center is a 7" glass plasma ball, with its every changing tendrils of ionized gass. Thoser tall enough can touch the plasma ball and c ontrol the plasma.
Unseen here, but at the top is a 6"diameter, 1" deep stainless steel cover over ther ceiling electrical box, to which the length adjustable wires attach for both ring and plasma ball.
**************************************************************************
Aether Power Light -- SOLD
Forget solar power, this light is powered from the aether. Built on a vintage voltmeter case, the brass valve holds a dimmer for the LED tubular bulb inside a 1870 cut glass kerosene lamp base, with a holophane shade above. As the valve handle is turned, the light dims and the current used is displayed on the meter. Red and blue vacuum tubes powered by LEDs are on the sides.
Max powder is read from the meter at 12v x .2 Amps = 2.4W!
10"w x 23" tall and runs from 12v wall unit.
TOWERING INFERNO
.....SOLD.......
This lamp is geared to heat things up, with two 11" Edison bulbs nestled within a sensuous copper coil wrapped with red EL glow wire. This is an "over the top" lamp, made from a solid copper and brass extinguisher, vintage 1955, topped with a "Hollywood Regency" solid brass post light with brass decoration and copper tassels. All real brass! On the bottom, providing stability, is a massive Italian ornate cast brass lamp base. There have been lamps made from fire extinguishers before, but none like this. The standard rubber hose and plastic nozzle have been replaced by a copper-colored braided hose with a custom machined solid brass nozzle. At the bottom, one side is the on/off toggle switch and the other side has a red valve handle controlling the dimmer for the Edison bulbs. This is a statement piece measuring almost 48" tall. The copper has been polished and lacquered and comes with an extra long vintage-look twisted cord. Bulbs are rated at 60W and 3000 hours and replacements are readily available. Comes with with a one year workmanship guarantee – truly one-of-a-kind.
NOTE: A companion lamp is available to make a matched pair
LOVE'N LUST ---SOLD
This piece blends the masculine, a rare Torpedo glass art deco shade, with the feminine spirit embodied in the love bird. Beneath the love bird is a beating heart pulsing with a red LED. Both the love bird and the heart are made of polymer clay, with numerous surface embellishments. And yes, those are handcuffs on the love bird while the lamp is an embedded multicolored LED controlled by remote to change color and intensity, along with glow wire at the base.
Fully Assembled
25" tall x 10" wide
Includes:
– Full service one-year guarantee
FIRE STATION ----SOLD
FIRE ! FIRE! These cries brought fear to our forebears of 100 years ago. Imagine yourself protected with this non-functional creation of a multi-purpose fire station, doubling as a color changing accent light. On top is a red LED inside of a safety cage, above a series of pipes and valves. No kitchen should be without.
This assemblage is to remind us of those wall-mounted fire extinguishers that were ubiquitous in public buildings and schools in the 1930s to the 1960s. No longer a working extinguisher this wall sconce is meant to evoke a fire station, with pipes, gauges and the red globe safety light always on, as were the old fire call boxes. Below is a vintage holophane globe sitting atop a Neptune (NY City) water meter case. Beneath the globe is an LED bulb that is controlled by a remote. Any color can be remotely selected as well as light levels. The solid brass, soda-acid extinguisher is in wonderful condition, is a QuickAid, and was manufactured by General Pacific Corporation in Los Angeles around 1948-1950.
The piece is mounted to a board for wall mounting but it can easily be removed and used as an impressive table lamp. It runs off of a 12v wall adapter and consumes less than 7 watts.
45" tall by 22" wide
BAR LIGHT
This bar or kitchen light is available with 2 to 6 lights, from 3 to 8 feet in length. The one pictured here is 5 feet. Different shade options are available, from old glass insulators to retro steel shades.
Made to order.