SENSATIONAL TIMEKEEPING
Here you will see unique timekeeping creations that transform the mundane into sensory stimulating devices integrating technologies such as Tesla coils, plasma displays, neon, rotating elements and flashing vacuum tubes that spark the imagination. Many of the clocks here run counterclock wise, or backwards, yet keep the correct time. Most are line powered, so no batteries required.
WORMHOLE CHRONOMETER
An impressie, 52" tall, Lumino-KInetic Assemblage melding 19th century clocks with a 20,000 volt Jacobs Ladder with its Frankenstein sound, kinetics and numerous lighting elements.. It functional as a working clock, running backwards, yet showing the correct time. Truly an attention getting and conversation piece demonstrating the synthesis of art and science, old and new. Add some WOW to that boring entry/foyer.
The case, melds an 1870 vintage English regulator with a 1905 Sessions mantle clock below. Embellished with Italian embossed brass banding, 250 brass screws and a hand carved Queen Victoria top piece with red LED eyes. Behind the glass door is a 25,000 volt Jacobs Ladder with enhanced vacuum tubes and 6" round electroluminescent portal. On top is a 3" rotating brass ball and flashing vacuum tubes. On the sides are 17" cold cathode lights above spiral wound EL wire in brass capped cylinders. Below is the 5" backwards-running clock back-lit by a blue electroluminescent dial. At the bottom area working gimbal-mounted current meter and a plasma display in heavy brass fire hose fittings.
This piece contains 14 separate light sources, (LEDs, CCFLs, EL sheets, strips and wires), rotating ball, Jacobs Ladder, reverse clock, working current meter and a 3" plasma display. The Jacobs Ladder is equipped with a proximity detector and only runs when people are nearby. Runs from 110V into a UL/CE listed power supply, and HV transformer is UL listed. The power consumption is less than 20w when the 100w Jacobs Ladder is not running.
52"H and 22"W
This is one of the finest, most ornate and technically advanced pieces to emerge from the Laboratories. Full VGL warranty..
As of 2019, this piece Has been running continuously in the foyer of VGL labs for 3 years..
WATCH THE VIDEO
***************************
Wormhole Chronometer Video
GEARS OF TIME --In JGo Gallery
Inside this beautifully restored Seth Thomas mantle clock from the 1900's, is a glass plasma disc that responds to touch. Solid brass and copper everywhere from the front 6 columns to the solid brass top piece, ( of unknown provenance), containing a see-through quartz clock movement. Running up inside the movement are rotating shafts with visible gears driving the gears and balls on the top and the sides. (SEE VIDEO). On each side are low power cold cathode lights supported by solid brass fittings. The spiral copper semi-circular element on top is an industrial heater element.
The clock is line powered, never needing a battery, and is permantly illuminated by LEDS, while the side switch controls the motor, plasma disc and side lights. There is a proximity detector, so the motor only turns when people are detected.
25"H x17"W x 7"H. Runs from 12V wall adapter. VGL guarantee of course.
Gears of Time Video
**********************************************************************************
FERMION COLLECTOR In JGo Gallery
This is a rare ornate 1890's restored vintage mantle clock case with a black lacquer finish with columns wrapping around the sides. Italian embossed brass banding surrounds the base. As the 20KV arc climbs the electrodes, the fermion particles are collected by the rotating antenna. They are amplified by the blue flashing concentrator on the top right, and then stored in the photonic capacitator which glows red when full. The Jacobs Ladder is contained by a 3" glass tube which amplifies the sound of the arc. All fittings are solid brass
The clock dial is illuminated by a blue circle of LEDS behind the brass bezel with convex glass. The rotary switch on the left controls the lights, and the one on the left is for the Jacobs Ladder Arc. There is a proximity detector so motor, lights and HV arc only operate when people are nearby. All the fittings are machined from solid brass. The clock movement runs from the line, so no batteries. The arc is produced from a UL listed transformer, center point grounded.
18"w x 6"D x 25"H. Runs from 110V. Power is 20 watts without Jacobs Ladder, and 80 watts with it running.
Fermion Collector Clock
*******************************************************************************
DILITHIUM CRYSTAL SYNCHRONIZER JGo Gallery
A rare blue dilithium crystal has been ground and polished to resonate at 60 times in each Earth minute. Therefore it synchronizes dark matter's oscilations with the battery operated quartz clock. Over the top is a water cooled containment field with a blue glow, which matches the 6" UV CCFL blue tube glowing on the front. Scotty would love this.
The case is a restored 1900 Sessions mantle clock with front columns and original brass colored lion's heads with rings on the sides. The clock works are visable and back-lit with blue LEDs in a circular pattern, reflecting off of the mirrored interior
Runs from a 12v wallThe clock works are visable and back-lit with blue LEDs in a circular pattern, reflecting off of the mirrored interior adapter. This is a compact piece at 13"w x 6"D x 20"H.
Perfect for all you STarTrek fans.
**********************************************************************
INSIDE TIME ---SOLD
This piece is the quintessential Sensational Assemblage with numerous lights and rotating elements to capture the senses. Look inside this vintage Sessions clock case and you are suddenly in clockwork wonderland with 3 rotating shafts, one of which runs all the way to the top. Copper wire balls, brass gears, spokes and sprokets all twirl inside of a mirrored box with dozens of red LEDs. In the front is a 12" blue CCFL tube reflecting from the brass banding. On top is a mid-century ornate clock case , wrapped ion brass, containing a new, see-thru quartz clock movement with exposed gears and the rotating shaft reflected from the mirrored case with a red led for nightime illumination. The main shaft emerges from the top of the case, crowned with gears and a brass ball. On the sides are dual red neon tubes with full range dimming from the the lower left control wheel, while the lighting and motor switcvh is on the lower right.
This piece has it all. There is even a proximity detector controling the motor so it only runs when people are present to watch!
18"w x7"D x 22"H. Uses 12V wall adapter at 35W when everything is running.
Inside Time Clock Video
***************************************************************************
Photonic Xlator----- SOLD
A classic example of a "High Steampunk" assemblage. This double-decker" clock, with a plasma Ball bellow is dripping with Italian embossed brass trim. 4 solid brass columns support the 2nd level pendulum clock. stabilized with miniature turnbuckles. On top is a hollow brass ball supporting side emitting fiber optics, with e en more lighting from the flashing green crystal lights above, the CCFL lights on the sides and bottom. I the middle is a vintage vacuum tube, back kit by a 1W LED, with the round pendulum swinging in front. The clock dial is illuminated by a green LED for night viewing.
This piece can be hung on the wall as it is here, or sit on its feet.
28" tall x 18" wide. Ru s from a 12V wall inverter
SPACETIME CHRONOMETER ---- SOLD
Inside this glass door of this Vienna Regulator style clock case is a 14KV Jacobs Ladder rising in front of a mirror. Flanked by two vintage vacuum tubes which flash once a second. The interior is illuminated with red LEDs which complement the red, side emitting fiber optics running down the sides. The clock runs backwards, but tells the correct time, while the brass ball on top rotates. The dial is illuminated by an EL blue panel.
The Jacobs Ladder and Rotating Ball on top only function when there are persons in the vicinity
36" high in a solid mahogany case.
THE SOOTHSAYER'S CLOCK -------SOLD
Of course the old Soothsayer can fortell the future, because his clock runs backwards, yet shows the correct time. How can this be? Are we here or were we there? He can even control the LED illumination color and brightness of the expired sodium vapor light with a wave of his hand, (holding the remote control of course). The brass astrolab on the top can be set to your birth sign to enhance his prognosticastions .
Once it was a 1900 vintage mantle clock, but now transmorgrified by the Soothsayer into an engine of mystery and wonder. The clock face is illuminated by blue LEDS under a brass canopy while the blue CCFL down below casts and erie blue pall . A walnut and vintage brass filagree vintage lamp base supports the old sodium vapor bulb , now illuminated from below by a color changing LED, with a remote control. The clock face bezel, columns and lions heads are all original.
Stands 14"W, 6"D and 32"H. Runs from a 12V wall adapter using just 10W. Clock is line powered so no batteries required. Of course, the Vandegraaff Laboratories one year warranty, is included.
**************************************************************************
TIME FOR THE BLUES
Here is a striking piece that is both a clock and an accent light. The elements in this assemblage span 150 years. The cut glass base and pressed glass cylinder, illuminated from within with blue LEDs and cold cathode tubes, is from a Hollywood Regency mid-century lamp. The asymmetric wood base is a Honduran mahogany cigar box wrapped in brass banding. The solid brass clock case is from a World War II liberty ship that was scrapped in Mobile, Alabama, now updated with a line-operated quartz movement so batteries are not needed. The pendulum is from an 1870s vintage kitchen clock. Above is a gaslight assembly from the 1880s supporting an always-on, blue LED illuminating the face. It operates from a 12V wall adapter and consumes less than 5W. The switch on the base controls the lights.
30"H x 9"W x 6"D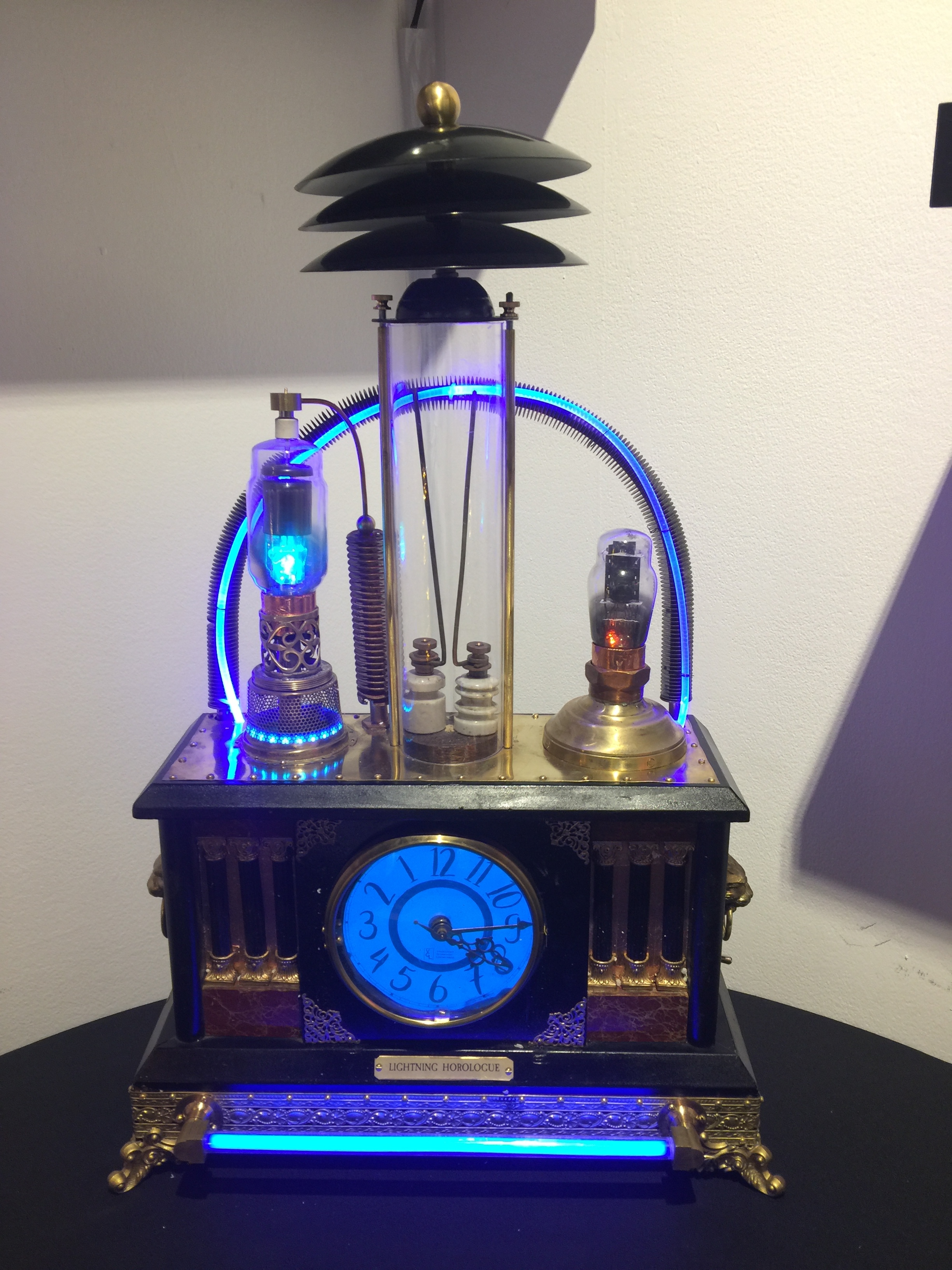 HOROLOGUE TIMEKEEPER -------- SOLD
From the Greek word, "horologion" meaning time, we have here counterclockwise running timepiece, surrounded by a dazzling display of lights, sound and motion. The lightning is from the Jacob's Ladder with its rising arc of buzzing electricity from vintage porcelain insulators. Vintage vacuum tubes pulse with internal LEDS. Across the front is an eerie blue light from a UV CCFL. The blue arch is created from a water heater element illuminated by side emitting fiber optics.
The case is from an early 20th century Sessions mantle clock that has been embellished with solid brass trim. The backwards running clock is line powered, back lighted by an EL panel, so no batteries are required. Very energy efficient at less than 6W fully illuminated, and 80W with the "Lightning" activated.
17' wide by 25" tall.
*************************************************************************
GREAT BALLS OF FIRE -----SOLD
This is one of the most beautifully ornate mantle clocks to emerge from the Laboratory. Solid brass trim and bass balls have been copiously added to this rare, Seth Thomas clock case with its patented adamintine , faux stone finish. Looks new!. The fire comes from the 20,000 volt Jacobs Ladder, flanked on one side by a green cold cathode light and the other by an LED, driving side emitting fiber optic strands in resin. They flash alternately at once a second. Across the front, is a green neon tube with a wiggling pattern that is moving inside of the gas. Very unusual effect.
The clock runs backwards (good for your mental dexterity), but of course keeps correct time and requires no batteries as it is line driven. Behind the European brass bezel with convex glass The clock dial is always illuminated by a green electroluminescent panel which only requires 1w to keep the face visible always bright. A toggle switch turns on the additional lights and in its other position, adds the arcs and sounds of the Jacobs Ladder. (Note the electrodes are contained in the cylinder for safety but even if touched, the arc is not deadly due to high frequency and low current, but it will burn.)
The piece is 17" wide at the base, and stands 27" high. The clock with all its illumination is low power, consuming less than 7 watts, but when the sparks fly, the power usage rises to 50W. Runs on 110V with 3 prong plug for safety. All HV components are UL approved.
One year VGL warranty as always.
SEE and hear the video
https://youtu.be/OpFLzutlwBc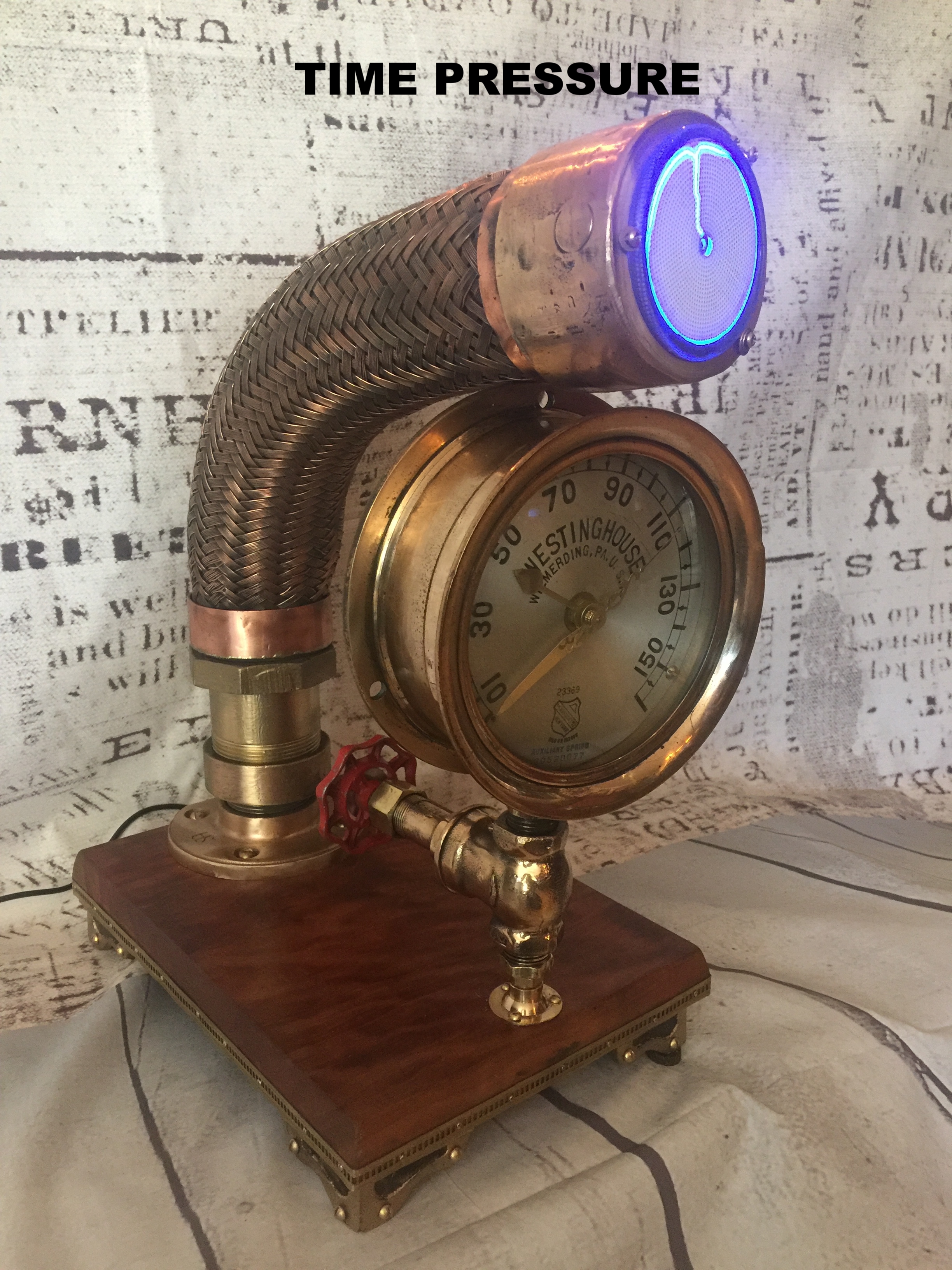 TIME PRESSURE
This is stuning piece with substantial bright brass and copper IS complemented by its cherry wood base. Above a valve, sits a vintage 6" solid brass Westinghouse pressure gauge that has been converted to a clock, retaining the original PSI gauge face. Rising above, is a 3" copper braided manifold hose suspended by its brass fire hose base. Inside the hose is a lightning bolt plasma plate that responds to touch, with a valve handle switch.. The base is 1" of vintage solid cherry wood , wrapped by a brass band with bracket feet.
This piece is compact at 8"w x 11"D and 16"H but very substantial at appox. 20 lbs. The quartz clock requires one AA battery and the display is line powered from external 12V wall adapter using less than 3W. The VGL one year warranty is included.
***************************************************************************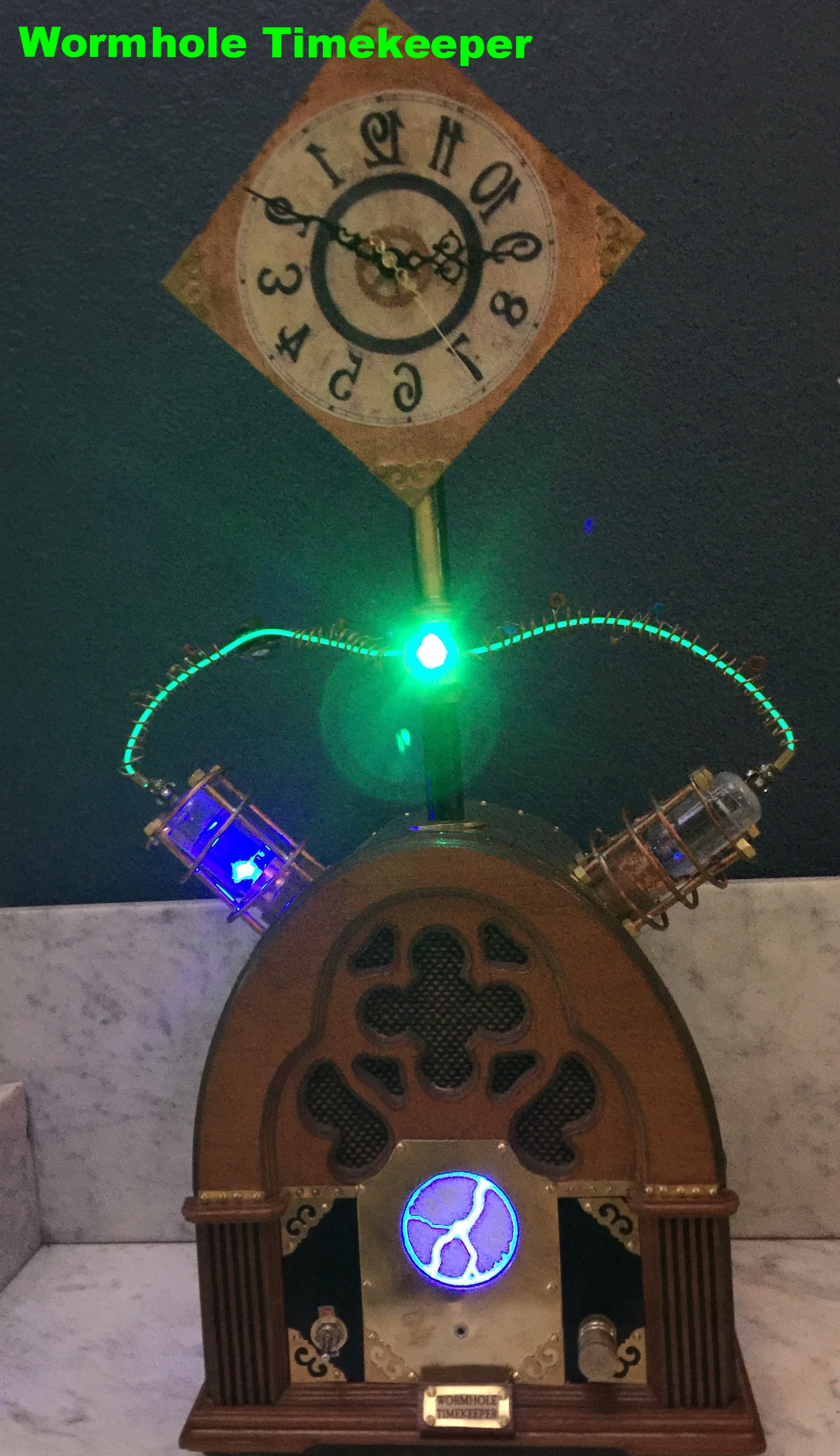 WORMHOLE TIMEKEEPER -------SOLD
When traveling through wormholes, clocks run backward.This unit is designed to be brought along on your time travels and will appear as a normal clock to you as you move through the wormhole. The vintage vacuum tubes amplify the tachyon waves that drive the plasma display. Back home, the clock keeps time but runs backwards and the plasma display is for amusement.
This is one of the most beautiful and richly detailed units to come out of the Laboratory, requiring over 150 hours. The wood cabinet dates from the 1980s and was designed to mimic a 1930s radio. It is covered in brass and adorned with brass details, paint, and over 200 brass slot head screws. The vacuum tubes are fitted with internal LEDs, protected by copper cages. The quartz movement and pendulum run on AA batteries. The electronics are all new and accept a phone jack to play your favorite tunes through the vintage, beefy speaker. The low power plasma display is hard wired to the 12V adapter and total power consumption is less than 2W and 6W with your music playing.
There is also a USB charger port on the right side.
29"tall and 16" at its widest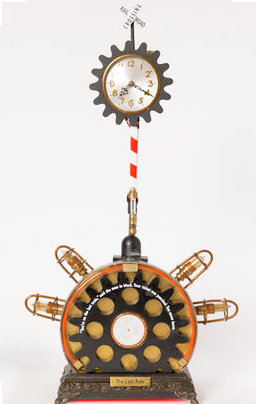 THE LAST RIDE
"You're on the last train" said the man in black. Your ticket was punched. You never knew.
.This piece may be interpreted as an allegory about our mortality or maybe not, so make no hasty assumptions about the train's destination. Possibly this is just a routine conversation between a conductor and a passenger? Are we fearful of our"Last Ride"?
The design started with a clock that is enhanced with brass, copper and steel to simulate a railroad locomotive, albeit a strange one, with glowing wheels and flashing lights. Trains run on precise time schedules, hence the quartz clock with top and bottom pendulums evoking a rail crossing. A train signal light is mounted behind the lower pendulum and changes from red to green every 10 seconds. The lights protruding from the clock are vacuum tubes protected with copper cages which are clear anachronisms and add mystery as to the kind of train we have here. They flash consecutively around the clock, one flash per second.
The clock stands approximately 30" tall and and consumes approximately 3 watts from the included 12V wall adapter. The electronics are microcontroller based.
This is the ULTIMATE clock for a train enthusiast and a "one of a kind".
FIREBOLT CLOCK-------SOLD
Rising bolts of electricity climb the Jacobs Ladder, creating a visual and audible display. On one side is a vintage vacuum tube, surroundced by an efficient circular CCFL light, illuminated from within by red/orange LEDS, mimicking the original tube filaments. On the left is a pillar of side-emitting fiber optics, driven from an LED.
The backwards running clock, is line driven, so no batteries are required. The 1900 vintage mantle clock case appears to be walnut, and it has been embellished with solid brass embossed trim and columns. The toggle switch on the side allows the selection of just illumination or illumination with the Jacobs Ladder.
110V line operation, and requires only 5 watts without the 60W Jacobs Ladder running. The one year VGL warranty is included.
HELIOS CLOCK ---SOLD
Helios is the personification of the sun in Greek mythology and this piece is named after the Greek sun god because of how the round orange plasma ball evokes the sun. The plasma ball has been enhanced with bright orange EL wire that attracts the plasma tendrils and look like solar flares with an eerie green glow deep in its core. The red crystal bulb in front pulses red every second, as do the blue LEDS in the vacuum tubes. Sitting atop this 1900 vintage clock case are hand carved mahogany leaves cradling a quartz clock. Arching behind is a curved copper heating element wrapped in blue EL wire. The 5" solid brass final is supported by brass wires with miniature turnbuckles running down to the vacuum tube cages, creating an interesting triangular composition.
The rotary three-way switch on the side allows you to power just the LEDS and EL wire, or the plasma orb with the LEDS. The clock is 24" high and 19" at its widest. It runs off of 110V but only consumes 5W with all lights on. Included is an extra long vintage wire cord and the usual one year workmanship guarantee.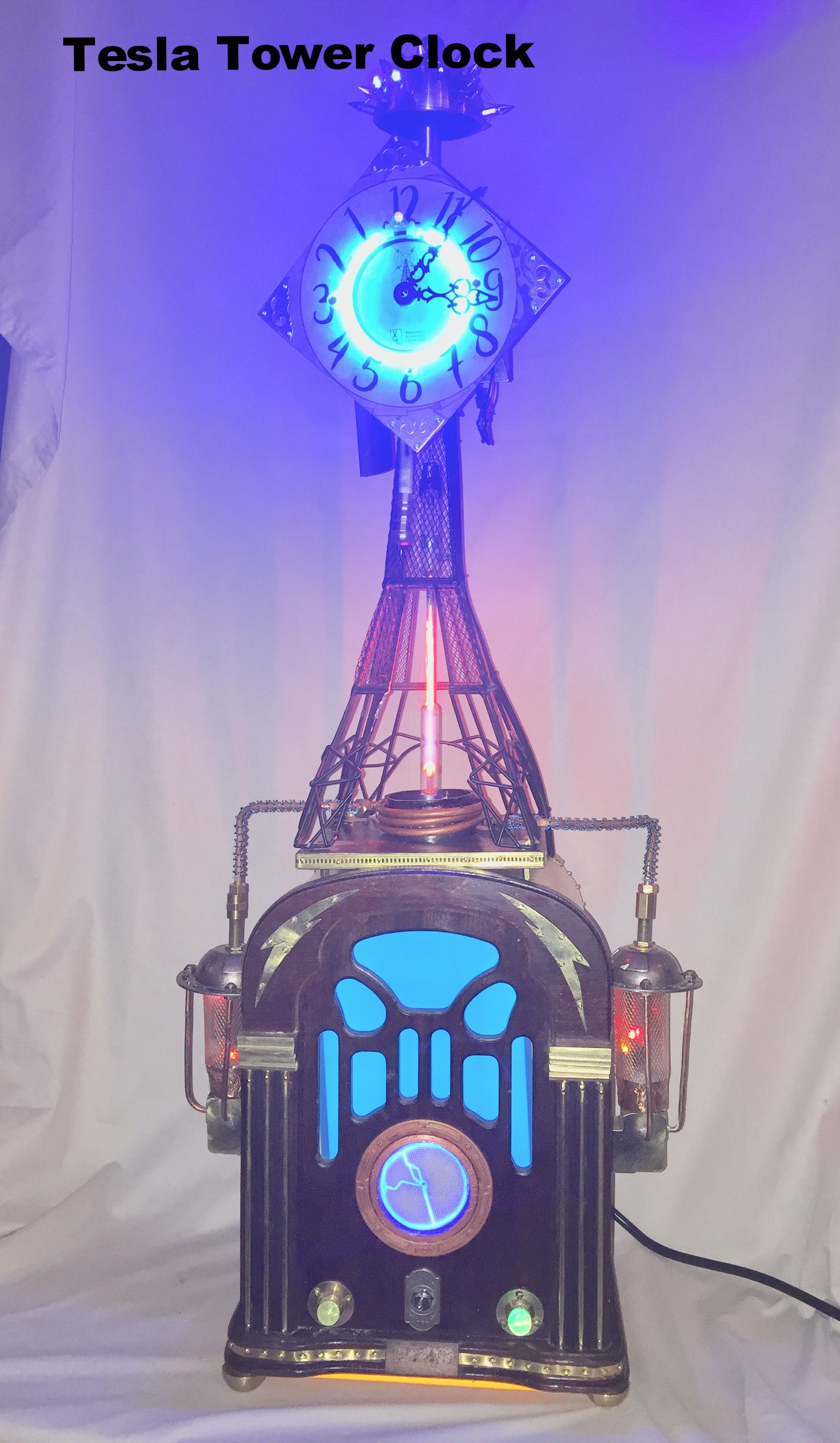 TESLA TOWER ----SOLD
In 1904 Nikola Tesla built a 186 foot tower on Long Island above underground shafts to transmit energy and information-carrying waves through the earth. This tribute piece to Tesla contains a 35 watt Tesla coil which without wires, energizes the suspended argon geissler tube above. This reproduces Tesla's demonstrations of 1984 when he held two geissler tubes in front of a giant Tesla coil to demonstrate his wireless lighting.
On either side are vacuum tubes with flashing LEDs, connected with copper piping wrapping around the Tesla coil. The front emits a blue light from the electroluminescent sheet, a 2.5" plasma display with a a flashing lightning pattern, and two uranium glass marbles illuminated by UV LEDs which flash once per second. Above is a backwards running clock illuminated with a circular CCFL light. On the very top is a brass hemisphere with 8 flashing blue LEDs to mimic the cupola of the Wardenclyff Tower. Underneath, are LED lights emitting a subtle glow.
The piece is housed in a vintage radio case and stands 35" high
This is one of the most technically advanced pieces to emerge from the Laboratories enhanced by its historical and educational value. It runs from 110V, and consumes 50W with the Tesla coil turned on. Without the coil, consumption is approximately 15W and is designed to be left on as an accent light as the clock is line-operated with no battery, which is what Nikola Tesla would have wanted.
SYNCHROTRONIC CLOCK-----SOLD

This device was recovered from the wreckage of an unmanned time traveling apparatus. After a study by Vandegraaff Laboratories, they posit that it was designed to synchronize itself from pulsing particle waves of unknown origin. It runs backwards they believe, so as to function in the tears in space/time. Modified to run on a battery, the pulsing amplifiers keep searching for a beacon.
The oversize clock face with a German convex glass bezel is set into an old Sessions 1910 clock case which looks to be walnut. This is a conversation piece topped with an industrial water heater element wrapped in blue EL wire. The large vacuum tube on top has been drilled out and fitted with blue LEDs. It is wrapped in brass with vintage vacuum tubes that alternately flash once/sec . In front, is a UV CCFL with vintage designed drawer pulls on the sides.
The clock keeps time but runs backwards with a sweep second hand to remind you of the backward movement and there is a good chance you will increase your mental dexterity as you learn to read it. Although there is a front switch for the lighting, it can be left on continuously as an accent light as the total power used is less than 3W.

The piece is 18" tall and 9" wide with felt protection on the bottom. The quartz clock movement is battery operated. A 12V wall adapter and one year guarantee is included.
HOMING BEACON ------ SOLD sold
When you are faraway in time-space, you need a phase-shifted homing beacon to get back to where you started. Here is the Homing Beacon pendulum clock which broadcasts the phase-corrected local time and thus its position in space-time. The massive old vacuum tube on top, under the metal tower, is the transmitter power tube and brightly lit with red LEDs. The plasma display is flanked by green tubes and topped off with a cool strip of light blue electroluminescence. The tower is constructed from metal members and topped by a radio tower and flashing red light. There is a front jack for connecting your phone to play music through an amplifier with a USB charger port on the side.
This is a mid-1980s mahogany veneer wood radio and cassette player looking like one from the 1930s. Replaced with all new electronics, including an efficient 4W amplifier and a massive old vacuum tube from a 1950's TV, now filled with LEDs. The tower was a windmill model.
Plasma display and EL tubes and panels use less than 1W, thus the unit is designed for the display and tubes to stay on continuously. The music player has a machined brass volume control and switch with VGL logo. Using the USB charger and amplifier still leaves power less than 6 watts.
The unit stands 36" high, including the 7" mast, and is 11" wide. It is delivered fully assembled except for the pendulum, radio mast and clock batteries. Included is a custom, solid wood travel case and as always, a full-service one year guarantee on workmanship. (see details under "About.")
****************************************************************************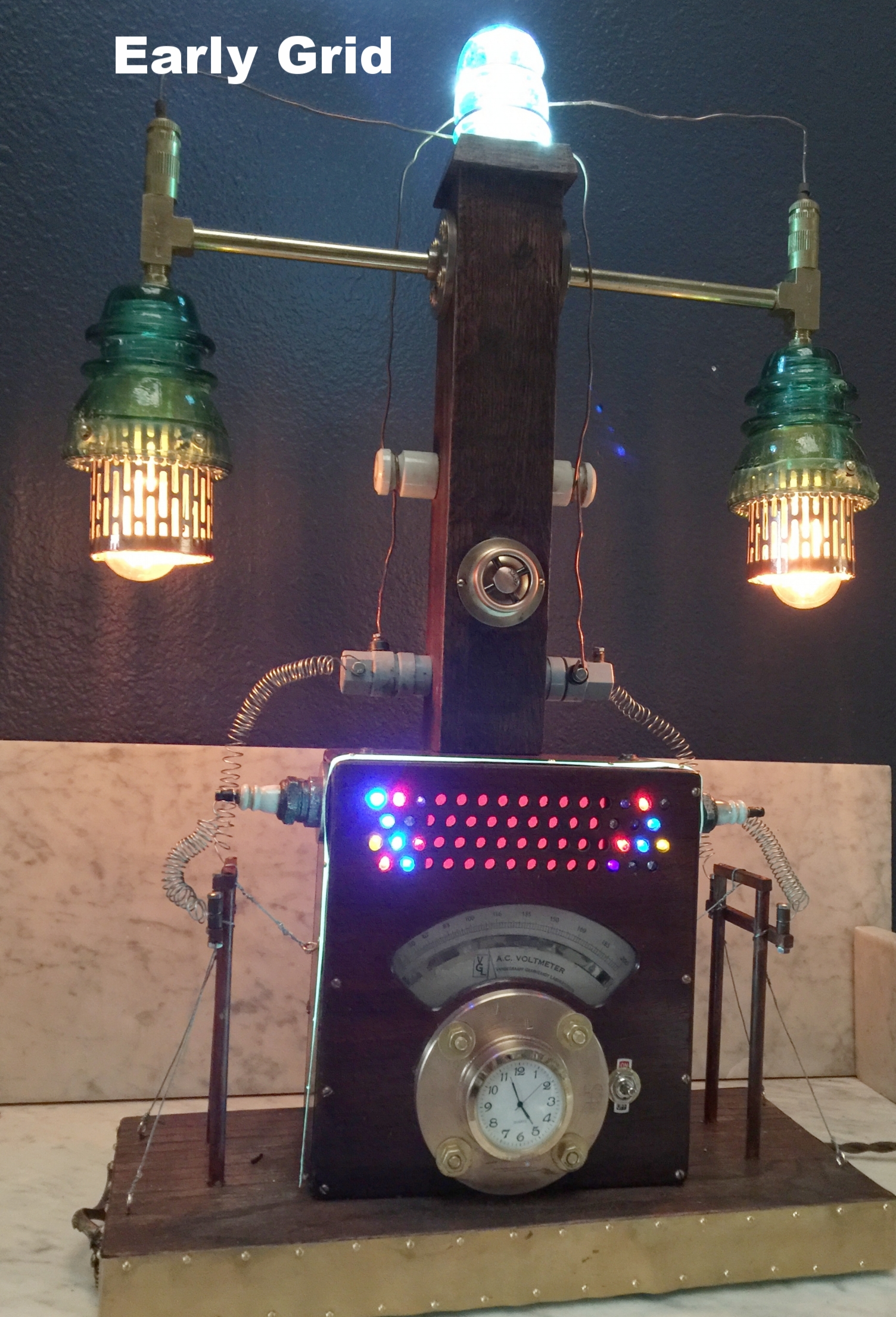 EARLY GRID ------- SOLD
The focus point of this desk light is a 1941 AC voltmeter with an embedded brass clock. I have tried to invoke some elements of a power grid with an oak post designed to look like a power pole with an insulator on top lit by an LED. The clock is set into a machined brass pipe fitting with an engraved VGL logo. The lights are 30W Edison incandescents known as radio style bulbs, hanging from old glass insulators with shades handmade from perforated steel. The wheel in the center of the oak post is a dimmer for the lights and the meter reads the output of the dimmer. The grey transformers are old electric binding posts and the white insulators on the side were used in old house wiring. The wires you see on top are only for show as the power wires are contained in the post and inside the pipes.
This is one of my few 115V creations, only because I wanted to have the meter read the line voltage. There is significant attention to detail on this piece that an electrician would appreciate. For example, the HV wires feeding the transformers are small gauge, looking like aluminum, which is authentic. Larger gauge wires from transformers are heavy copper. I re-calibrated the meter, made a new meter face and added a VGL logo. The high voltage towers are stained like creosote and the small insulators are Bakelite. The base is re-purposed oak flooring over melamine, wrapped in brass with protective feet.
The piece stands 29" high, with a max width of 19" to the outside of the green glass insulators. The base is 7" x 16" and comes with a custom wood box for shipment. A spare bulb is included, with a one year guarantee on workmanship.
I have several old meters in wood boxes so I can create a similar piece to your speciufiucation
*****************************************************************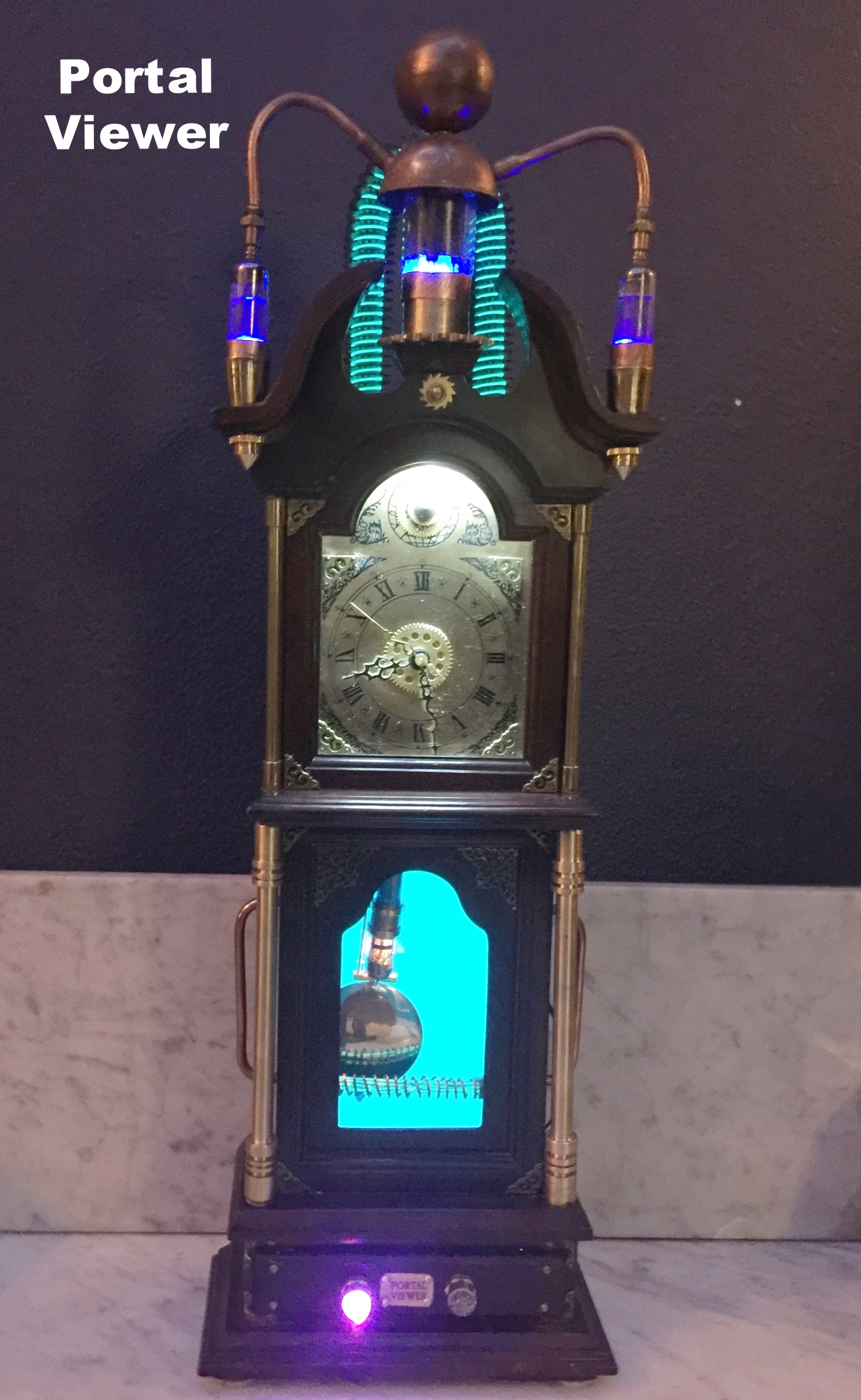 Portal Viewer SOLD
Recovered from an unknown wreckage, we believe this was a future-time-viewer to assist in time-warp navigation. Many parts were destroyed, but Vanderaaff Gearheardt Laboratories, (VGL), has reconstructed it unfortunately without all of the integral parts. Obviously, trhe blue screen behind the pendulum of photonic amplifiers was the screen. The tacheon amplifiers above, with their signature spirals, opened the doors to the past or future, relative to the clock. Much is still unknown.
When you look into this clock you see the eerie blue luminescence of the EL panel and it seems you are looking into the portal of another dimension. With two vacuum tubes attached, the pendulum blinks as it swings and the new quartz movement is smooth as trhe sweep second hand moves arround the dial, with no sudden ticks. Two massive solid brass columns on the sides were custom machined and the vacuum tubes on top are lit with blue LEDs matching the spiral and EL panel. The solid wood case with mahogany veneer has carvings on the top and the embelleshed dial and brass corners all add to the beauty of this piece. It all runs from a 12v wall unit and consunmes less than 1 watt.
It can be wall mounted or stand on its brass ball feet. It is 24 high and 9" wide. "
****************************************************************************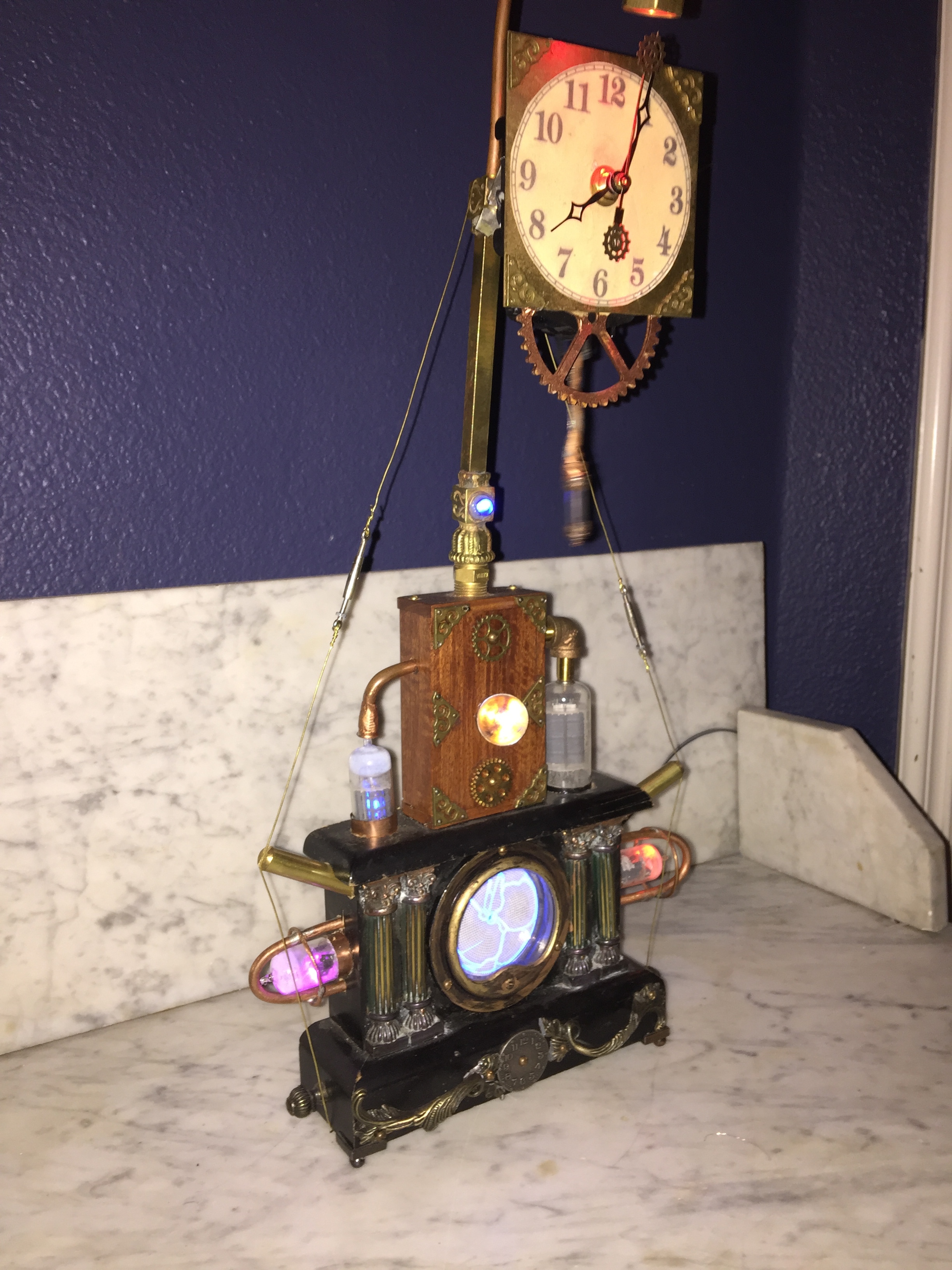 PLASMA CLOCK -----SOLD
This is an ornate small mantle clock enhanced with flashing vacuum tubes and a glass pendulum bob that catches the light of an LED. There is also a red LED above. The clock uses very low power, <1W, running from a 12 volt adapter so the lights stay on. The plasma and LEDs look fabulous in a darkened room. Nicely proportioned at 23" high and 11' wide and includes a one year guarantee on workmanship.
I can create similar pieces .