DIESELPUNK/ Cars and Motorcycle Themes
DieselPunk is the fantasy/alternative history genre that follows WW1. The assemblages here use steel and aluminum, often with a motorcycle or automotive theme, with some pieces bringing to mind fantastical factories and devices. These pieces resonate with Vandegraaff due to his history with motors, his highly customized HD Heritage Springer, and allows him to use his 1956 Atlas/Craftsman metal lathe.
Some pieces here have an automotive and Harley Davidson theme.
'53 CHIEF
A rare 1953 Pontiac Chieftain hood ornament, brightly illuminated from within with a 1W LED, sits atop a 12" square of aluminum diamond plate. There hood ornaments are fast disapearing. At the bottom corner, is the dashboard speaker cover which once,contained a small clock. The clock has been replaced with a new, line-operated quartz movement with sweep second hand, so no batteries are required. Clock is illuminated from behind with amber LEDs matching the "Chief" above.
Wall hanging, it measures 18" top to bottom and 16" wide. Runs from a UL, 12V wall adapter and consumes 7 watts. The 12V power supply wire is flat white and can be painted to blend into the wall.
With its use of original Pontiac parts, now getting scarce, what a great piece for a vintage car lover!
*************************************************************************
TIME UNDER TENSION
A die cast model of the HD Twin Cam Engine, circa 1999, sits atop a polished 6 inch aluminum cylinder, held in tension by turnbuckles between an aluminum square. The clock works are visible and bounce off the mirrored interior back lit by a ring of blue LEDs.
At the very top, is a cut glass crystal, illuminated by a 1W CRee LED.
The metal plaque at the bottom Reads. "88 TC Engine, 1450cc, 1999"
12V Wall adapter supplied.
"Filler-Up" Light --In Jacobs Gallery
Here is a model of a vintage gas pump, with 2 individually controlled LED high-intensity lights on the sides. . The metal globe has glass Texaco logos on both sides with a bright LED bulb inside. Just like resetting the old pumps, the switch for the globe is a crank on the left. The filter is from an automobile, and the hose ends with a hand-crafted nozzle. The digital clock evokes memories of the rotating digits as the attendant pumped our gas at $0.25 a gallon. Even has the lead warning sticker on the side!
Stands 27" high and sits on a 7" walnut base. Runs from a 12V wall adapter with all LEDs for efficiency.
Other Logos and colors can be made to order, but no duplicates.
STILL KICKIN'
Here could be the long lost brother of Stephen King's, "Chrtistine". An old grill, maybe from a truck, makes one think of a rusting hulk but behind the grill lurks the soul of a machine that hasn't expired and is 'Still Kickin". The 4 gears are wrapped with a connecting chain and the 12" red CCFL lights emerge in a V shape, alternately flashing, like an engine starting to turn over.
The grill covers a rusty steel plate, wrapped in aluminum, topped with a machined radiator cap. The insignia, VGL, is our Vandfegraaff crest.
Low power from a 12V wall adapter. A thin flat cable is provided that can be painted or even spaclked over to hide the cord.
SEE VIDEO
Video of STILL KICKIN
*********************************************************************************
CHAIN DRIVE LAMP---- SOLD
From 1903-1985 Harley Davidson used roller chain they manufactured as the final drive on the "Big Twins". Here we use the same #50 chain, in chrome, rotating slowly through the spur gears. The 45 tooth final gear is chrome but doesn't have an HD part number so its provenance is unclear. Bolted to the final with chrome acorn nuts is a salvaged HD derby cover. Driving the chain is a DC permanent magnet DC, 1/8 HP gear motor with electronic speed control. Moving the lever on the right changes the speed. Bolted to its drive gear, is a VROD cover with HD logo. Of course the on/off switch on the aluminum column is from a an HD.
For lights, there are dual 1960's vintage adjustable spotlights, controlled by a dimmer at the top. The 4" Blue round CCFL at the top of the column sits beneath a 4" die cast model of the knucklehead motor which would have used such a chain drive.
Down below, sitting on the 1.5" slab of vintage cherrywood, is a HD Fishtail muffler tip from a Heritage Classic, illuminated within by a flashing red LED. A small non functional illuminated speedometer sits in front. Sitting on top of the aluminum motor box is a metal chopper model built out of bearings and bolts, with its headlamp and amber signals illuminated by LEDs.
On this piece there are 3, 1980s , VERY RARE metal labels, part of HDs early licensing, that were sold at Franklin Stores for crafts. One touts HD's Chain and Belt Division, and another "Harley Chrome".
In front, down below is a proximity detector surrounded by a helical cut gear. When no one is present, the motor shuts off after 30 seconds.
THIS IS A BEAUTY. WATCH THE VIDEO!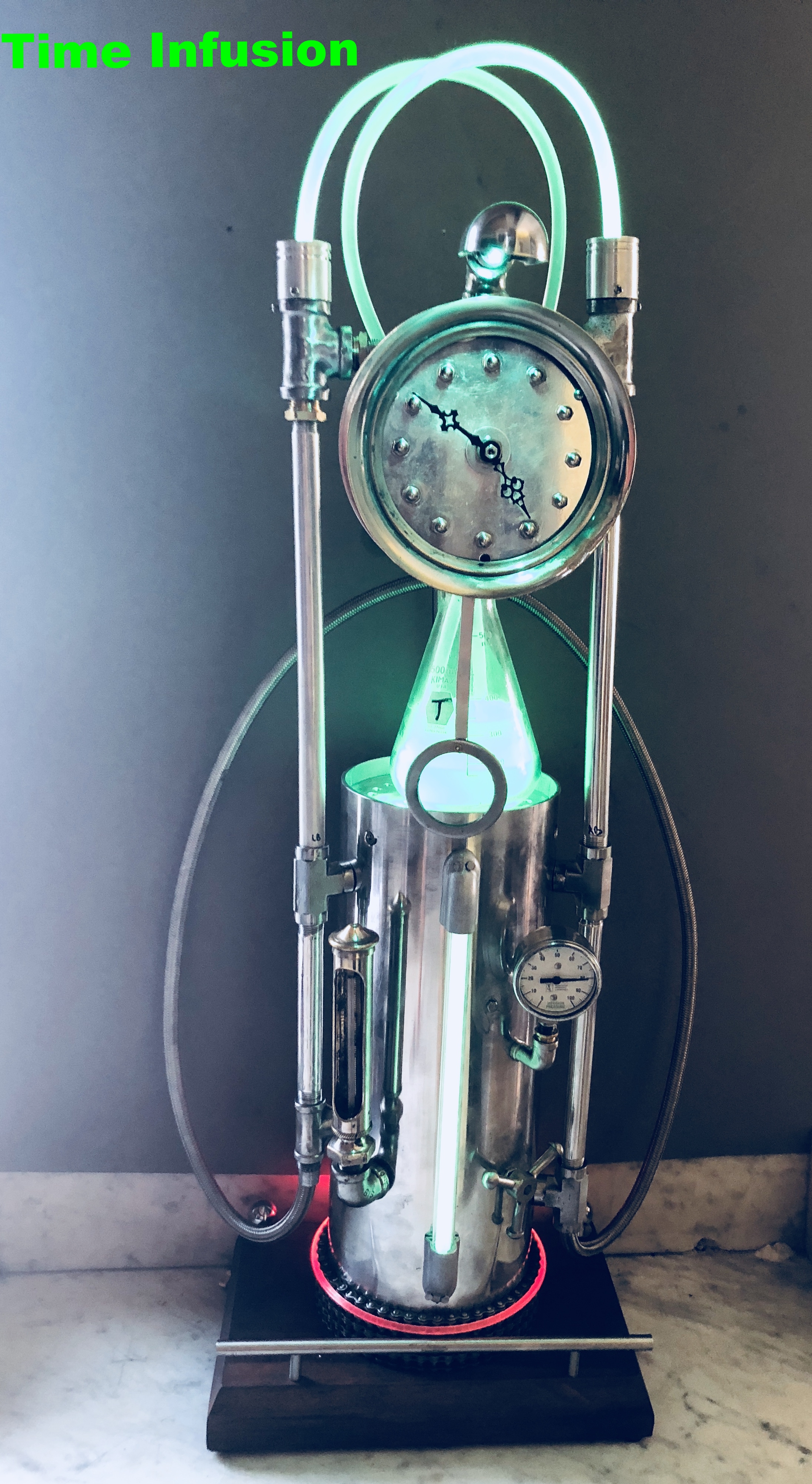 TIME INFUSION ----SOLD
Time is represented by the green liquid fluorescing under UV LEDs, in the Erlenmeyer flask wherein it flows through the glowing green tubes up and then down to the 6" polished boiler, "heated" by the red fiber optic tube in its base. The process can be seen through the green neon sight glass in front, squiggling upwards, and monitored by the vintage nickle plated thermometer and recorded by the infusion pressure gauge. The switch for the lights is a vintage valve handle.
The clock case is a chrome/nickle pressure gauge, housing a quartz pendulum movement running off of the 12V adapter, so no batteries required. The base is a piece of Appalachian walnut, a full inch thick.
Stands 38" high on a base of 12" W x 8"D
What a conversation piece for your bar!
V TWIN CLOCK ___In Jacobs Gallery
Evoking the famous V Twin design of HD, followed by S&S and others, here is a HD Derby/Clutch Cover bolted to a 6" polished aluminum cylinder, with piston jugs emerging from the top. The alternating red flashing lights represent the cylinders firing are CCFLs, for low energy consumption so leave them on!.
See video
KNUCKLEHEAD CLOCK
Knucklehead was the nickname for ther Harley Davidson 61 cu inch V twin engine introduced in 1936. Here is an all metal replica of a late 30's motorcycle sitting atop a polished aluminum sheathed box.
On the front is an official HD Motor Oil clock, with a 32" yellow neon light on one side, and an orange neon light on the other. Across the front at the bottom is a nickle plated hand rail.
Can we wall or table top mounted. Over 42" high and 23" wide.
Runs off of the provided 12V wall adapter. The one year, VGL guarantee is of course included.
***********************************************************************
MAKING TIME -------SOLD
Here is a massive 5" diameter highly polished aluminum cylinder containing the industrial strength time machine pumping out the seconds, minutes and hours. The lid of the cylinder is machined from 3/4" of 6101 alloy of aluminum sitting over stainless steel tubing. All fittings are stainless or chrome plated. Turn the vintage valve handle in front and the machine comes to life with a red cold cathode display in line with the red pendulum. Around the outside is the latest in lighting technology with 4' of side-emitting fiber optic cable. Almost as brite as neon at 1/4 the power. The chrome meters on the sides are from vintage welding gear. The clock is enclosed in a polished aluminum casting that once was a pressure gauge and so the PSI limit face and markings are still there. There is a red LED, always on to illuminate the clock face.
The piece sits on a full inch of vintage American walnut, with brass and nickle spheres at the corners.
Stands 32" tall with an 9" square base. Clock and pendulum require no batteries as they are driven by the 12V wall adapter.
Runs off of a 12V inverter consuming 4W withall lights on
****************************************************************************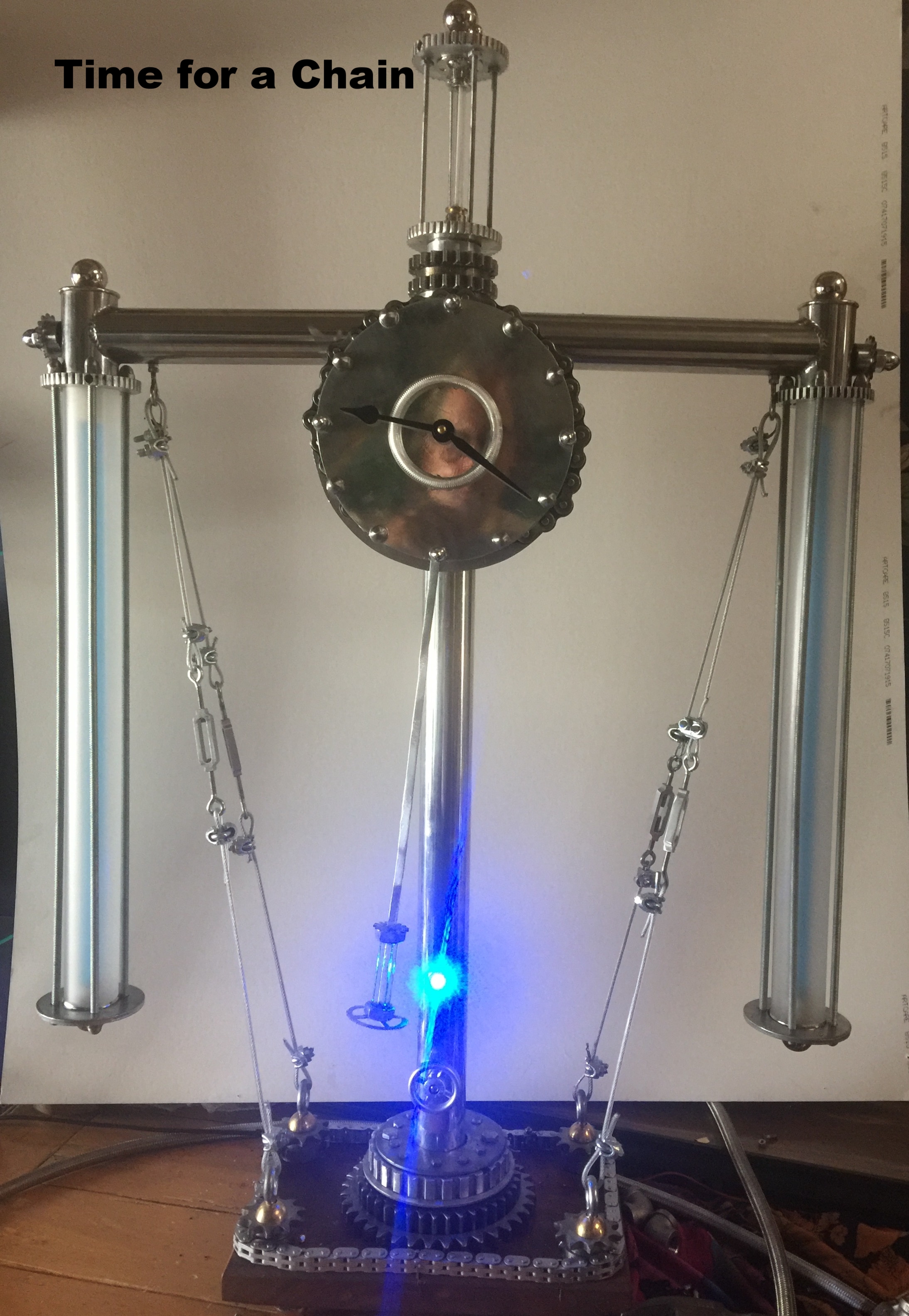 TIME FOR A CHAIN -----SOLD
Timing chains and gear chains with a few gears to match . . . this clock has 'em all. Even a chain wrapping around the dial to hide the line-powered quartz clock and pendulum works, so no batteries to replace. Stands 36" tall and 26" wide with highly polished aluminum and stainless steel fittings, sitting on one inch of vintage American walnut. Clean welds and threaded connections speak to the craftsmanship of this piece.
The clock face is illuminated by a circular blue CCFL, and on either side are 14" CCFLs, inside of frosted cylinders. On top is a 4" blue CCFL in a polished steel cage sitting on top of timing gears. The pendulum is continuously highlighted as it swings in front of three blue LEDs.
The lighting is cool blue/white and with its clean lines and polished aluminum evokes an art deco, streamline feel. Light switch is controlled by vintage valve handle. 12W power consumption.
Of course the one year VGL Warranty is included.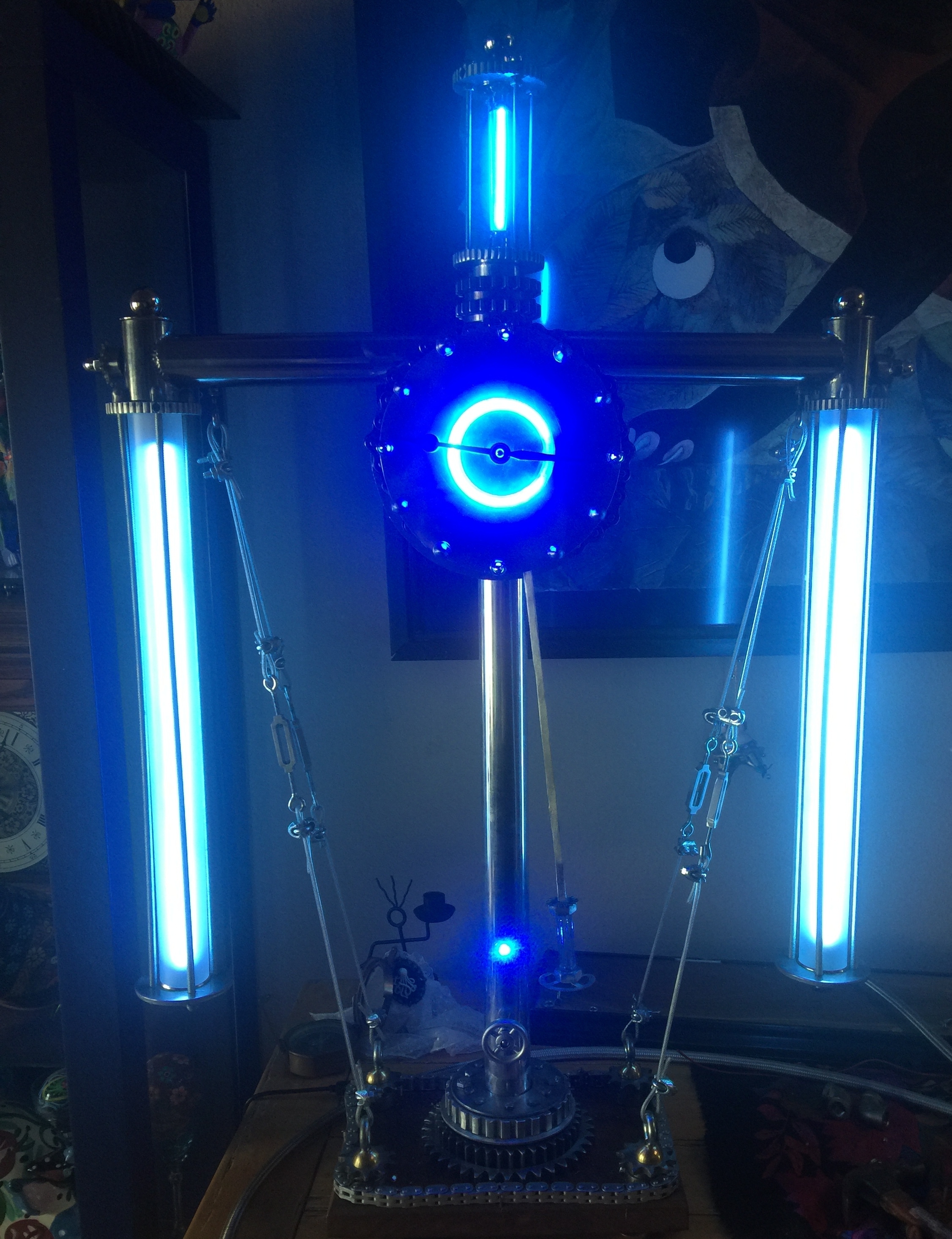 Lights ON!
****************************************************************************
STEEL N' TIME ----- SOLD
This massive pendulum clock stood for centuries in the entrance hall of the penitentiary for violators of The Time Travel Protocols. It was smuggled backwards in time after the prison fire and subsequent mass escape by miscreant time travelers. It was placed there to remind those violators that time must be treated with care in order to preserve the future and the past. The swinging pendulum and multiple gears evoke the inexorable interlocking of the past, present and future.
This is a massive sculpture of polished steel gears, ball bearings and pipes, incorporating a pendulum clock with blue LED strip lighting. The recurring elements of steel and brass, with the sharp edges of the gears contrasting the ball bearings. The rectangle of the light tubes hangs behind the square clock, tethered to the base by triangles formed by the functional guy wires with steel turnbuckles. The structure sits on a full-inch thick piece of vintage American walnut, screwed together for a clean look with no welds.
The quartz clock with sweep second hand runs smooth, with small steel balls indicating the hours. There is a gear shaped pendulum with a clear center tube that swings over a blue LED. On top is a vintage vacuum tube illuminated from within by LEDs. The side light comes from LED strips inside an acrylic tube wrapped in copper wire whose brightness can be c hanged by front toggle switch. The LED strips sit inside a second 3" diameter tube, capped on both ends with polished steel acorn nuts.
The overall look of this work is industrial sculpture with a vintage twist that functions as a clock and light. This piece weighs 50 lbs, is 36" tall and 23" at its widest point. It requires less than 5 watts from the included 12V wall unit.
STEEL N' TIME Close Up
SERVING TIME --- SOLD
This light was used in the cafeteria in the Penitentiary for Time Traveling Miscreants. This clock was to remind them that the time of their sentence must be served. It was illegally brought back in time after the fire and mass escape.
The clockwise rotating switch on the right selects Off-EL Lights only-Edison Light only--All On-.
The left knob is a dimmer for the Edison bulb, as the voltmeter reads the voltage.
On a tray made of vintage cherry wood, stands this substantial polished steel light with an embedded quartz clock. The center Edison bulb stands 11 inches tall and is controlled by the dimmer knob below. The functioning AC voltmeter on the right is encased like the clock in a polished steel pipe fitting and displays the dimmer voltage. The flanking EL lights and the green EL band, are controlled by a knob to the right of the dimmer.
The steel shade is supported by polished stainless steel pipe fittings. The unit stands 24" high and is 13"wide at the base. It is very substantial with protective feet with an extra long vintage twisted brown cloth cord.
************************************************************************